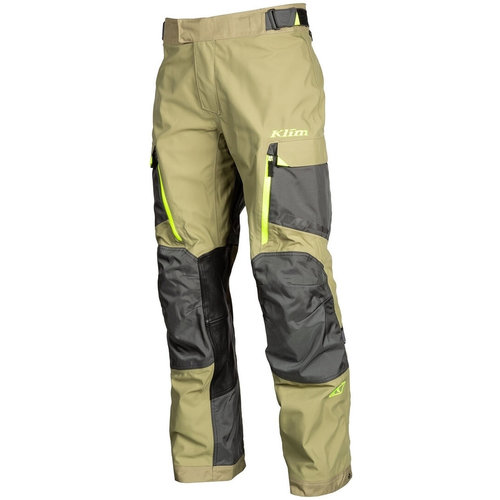 Klim Carlsbad Pants + 5% Champion Caschback!
The Klim Carlsbad Motorcycle Pants are a pair of 3-season adventure and dual sport riding pants. They have been built to provide a variety of on and off-road features including CE Level 2 protectors, leather grip panels, and a Gore-Tex performance outer shell.
So, with a recommended retail price of about 700 Euros, or 760 USD, the Carlsbad will also be competing with the Revit Poseidon 2 Gore-Tex, Revit Defender Pro Gore-Tex, and the Dainese D-Explorer 2 Gore-Tex Pants.
Material
For material, the Klim Carlsbad Trousers use the same FPL400 textile construction as the Klim Carlsbad Jacket. This means the pants include Gore-Tex material in the outer shell for waterproofing and also have Cordura at inner knee and the cuff for wear resistance. Additionally, the pants include goat leather panels overlaid on inner leg for extra grip on the bike and to make the pants more abrasion resistant. The pants are also certified to the same prEN 17092-3 AA rating as the Carlsbad jacket.
Protection
For protection, the pants come with D3O CE level 2 hip and knee armor. These pads are removable, and, more importantly, they are adjustable so you can fit the protectors to your legs. There is also a matching zipper at the top of the pants to zip to the jacket.
Comfort
For comfort, the pants come with two intake and exhaust vents on the thighs right next to the pants' cargo pockets. There are adjustment straps in the hips and a zipper and snap to adjust the cuffs. This adjustable cuff design allows the pants to be open enough to adjust the fitment for a wide range of sizes. Some final nice features of these pants are that they have a waterproof and gusseted zipper to keep any rain out and they use a polygiene anti-microbial and moisture wicking liner.
Summary
If you're in the market for a mid-priced pair of riding pants that has a focus on safety, then the Klim Carlsbad Pants should definitely be on your list. These pants come with a surprisingly high level of premium features including CE Level 2 protectors and a Gore-Tex liner.
 If you're curious to learn more about the Klim Carlsbad Pants, the don't forget to subscribe and check out our YouTube channel with our Klim Carlsbad Jacket and Pants Video Review.