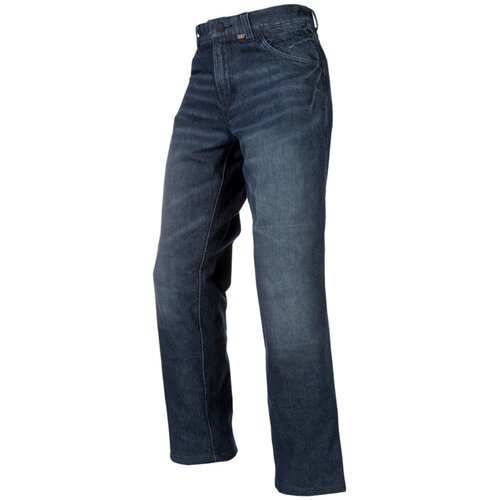 Klim K Fifty 1 Riding Jeans + 5% Champion Caschback!
The Klim K-Fifty 1 Pants are going to be more than your average pair of jeans. The Motorcycle jeans have been designed to keep you safe on the road and looking great.
The K Fifty 1 jeans deliver a Cordura outer shell, Kevlar reinforcement, and even D3O protectors. So, these pants are going to be just as comfortable as your ordinary pair of jeans while giving you substantially more protection. The Pants come in several colors including dark blue, light blue, and black and they have a straight cut. The pants come at a recommended retail price of about 360 Euros, or 390 US Dollars.
So, the riding jeans will compete with the Revit Detroit TF and the Alpinestars Victory Jeans.
Material
The Klim K 50-1 Jeans deliver the abrasion resistance, impact coverage, comfort, and style thanks to heavy duty Cordura denim using a nylon / cotton blend. This will mean the pants will offer much better abrasion resistance than ordinary denim, but it will still be just as comfortable as ordinary jeans. Cordura also has the added benefit that it holds color better over time. The jeans are also fastened with a YKK Fly Zipper and they are certified to prEN 17092-3 Class AA.
Safety
For safety, the Klim K50 1 Pants come with D3O armor in the hips and knees. The D3O knee and hip armor is made of a special foam material that is flexible, but when in an impact it stiffens for protection. The armor is removable and the knee protector is even adjustable. For extra impact protection, the pants also come with a Poron XRD impact foam insert in the tailbone and reinforced Kevlar panels in the slide zones.
Comfort
For comfort, the Klim regular fit jeans perform like any other pair of denim jeans. They have the same fastening system, belt loops around the waist, and the same pocket positioning with 2 in front, a coin pocket, and 2 in the back. The main difference is that these pants use a mesh liner, which will keep you cool with the help of a moisture wicking polyester. 
Summary
With these comfortable denim riding pants, Klim are offering a pair of pants that will perform on the road and give you the style you deserve. Additionally, the extra safety in the tailbone and the Kevlar reinforcement will definitely go much farther than any normal pair of jeans.
If you're curious to learn more about the Klim K Fifty One Jeans, then don't forget to check out our YouTube channel where we review the latest gear and have our Klim K Fifty 1 Video Review.