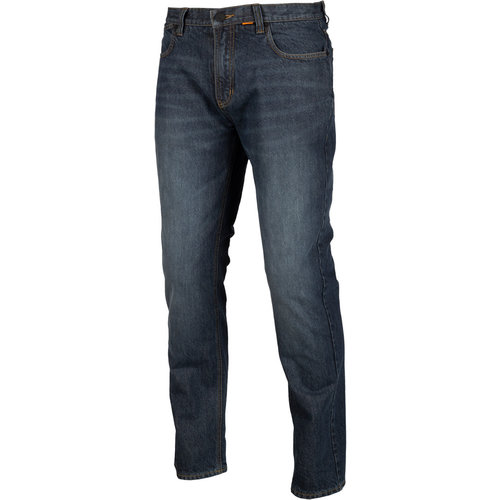 Klim K Fifty 2 Straight Riding Jeans + 5% Champion Caschback!
The Klim K Fifty 2 Riding Jeans are part of the Klim casual pants line and have been a staple for the last few years. Coming in a little bit slimmer than the Klim K Fifty 1 Jeans, the two will still be similar. These riding jeans are complete with integrated with D3O Evo knee and hip armor and heavy duty Cordura denim construction. Overall, this straight leg fit jean delivers the abrasion resistance, impact coverage, and style.
So, with a recommended retail price of 340 Euros, or 370 US Dollars, these pants will be competing with the Revit Detroit TF and the Alpinestars Victory Jeans.
Material
The Klim K50 2 Jeans are made from tough Cordura Denim, which is Cordura with a nylon / cotton blend. The Cordura will make sure that the pants are abrasion resistant and they are certified to prEN 17092-3 CE AA. The pants also come with additional Klim detailing and have a stone washed finish.
Safety
For protection, the Klim K 50-2 offer more than you usually with many other riding jeans. So, these pants are coming with D3O Evo CE Level 1 protectors in the hips and knees. These are removable, and the protector in the knee can also be adjusted.
There are also reinforced Kevlar panels on the interior in the knees and the back of the thighs, and there is a Poron XRD Tailbone impact absorbing pad. All together, these features make the Klim K Fifty 2 a tough pair of pants for impact absorption and if you come into contact with the road.
Comfort
For comfort, as well the K Fifty 2 Jeans will perform just as you'd hope. The jeans have a straight leg fit and use a YKK Zipper for closure. You get the usual pockets as you would on any jeans. So, there are 2 hand pockets, a coin pocket, and 2 back pockets. The liner is mesh, so the pants will also be more comfortable and will ventilate better as well.
Summary
The Klim K Fifty 2 Jeans have a great balance of protection and casual style which help them complement the K Fifty 1 jeans very well. Though the pants are priced at a premium, these are a pair of jeans you can count on to perform on the road and trust to look good everywhere else.
If you still want to find out more, make sure to head to our YouTube channel with our Klim K Fifty 2 Video Review.