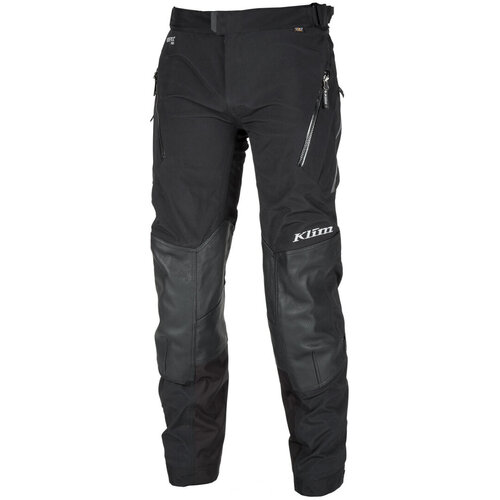 Klim Kodiak Pants + 5% Champion Caschback!
The Klim Kodiak pants offer next level touring comfort, safety, and features. If you need pants for a tough, long distance journey, then you'll want to consider the Klim Kodiak Trousers. These pants are made of a Gore-Tex Pro outer shell with perforated leather overlays that stretch all the way around. This is a good feature since it means not only better abrasion resistance but also better grip on the motorcycle without losing out too much on ventilation. The pants also come with 3M Scotchlite reflective panels on the sides, not to mention CE Level 2 D3O protectors in the knees and hips.
Since these are premium touring pants, they will also compete with the Dainese Antartica Pants and the Revit Dominator 2 Gore-Tex Pants.
Material
The Klim Kodiak pants use Gore-Tex Pro material to achieve a high level of abrasion resistance, waterproofing, and breathability. This material has been specially created by Gore-Tex for the toughest of applications without failing. There are also additional leather panels that reinforce the entire area around the knees to raise their abrasion resistance. However, they are perforated to offer better ventilation.
Lastly, the pants use 3M Scotchlite reflectors that blend in with the design of the pants.
Safety
For safety, the Klim Kodiak pants feature just as much extra protection as their jacket counterpart. So, you have D3O CE Level 2 hip and knee armor, and, in addition to that, there is a PORON XRD Tailbone protector. A slider system in the pants also holds the D3O pads and lets you adjust the protectors.
Comfort
For comfort, the pants include plenty of extra features as well. So, for ventilation there are 2 thigh vents to let air in, as well as the perforated leather panels. Right next to these, you also have 2 cargo pockets to let you store anything you might be taking along. The waist itself is elasticated and comes with additional adjustment tabs, and you can also use cinches just under the knee.
The cuff of the pants uses a zipper and buttons to close. Lastly, there is also a jacket to pants fastening system in the back to pair the pants with any Klim jacket.
Summary
Overall, the Kodiak Pants offer a great range of features, and, most of all, safety. With additional safety features like CE Level 2 protection and a tail bone protector, the pants go above what you usually find for leg safety.
If you'd like to learn more about the Klim Kodiak Pants, make sure to check out our YouTube channel where we review the latest gear and have our Klim Kodiak Jacket + Pants Video Review.