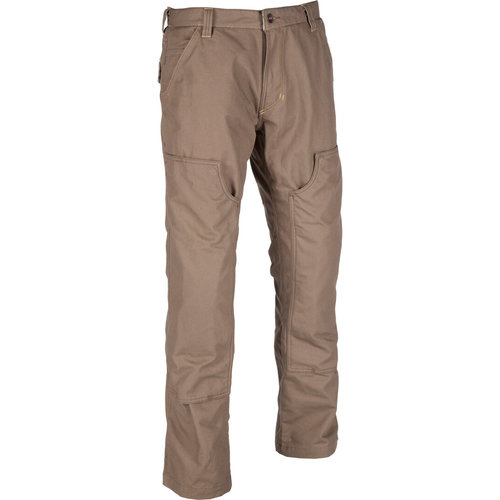 Klim Outrider Pants + 5% Champion Caschback!
The Klim Outrider Pants focus on delivering a casual motorcycle pant while still offering the safety that is expected from Klim with CE Level 1 D3O armor in the hips and knees.
Klim Out rider Pants are another entry from Klim in the casual pants category. And, with a bit more of a work pants look, these are Cordura pants that will be on the heavier side of casual textile in case you want lighter riding gear for your adventure rides.
In the casual cargo pants segment, the Klim Outrider Trousers will be competing with the Revit Cargo SF.
Material
The Klim Outrider Trousers are made of Cordura canvas. This means they're going to be heavier and more abrasion resistant than denim and, as a nice bonus, they'll hold their color better. The pants have also been cut to be compatible with off-road and adventure boots.
Safety
For impact protection, these pants come with removable D3O CE Level 1 hip armor and knee armor. This means that these pads will be flexible while being tough in an impact. And this also means that the knee pads will be adjustable since they're being held in place with Velcro so you can get a proper fit.
The pants have also been designed so that you can remove the pads while still wearing the pants. This is a really clever feature that means you can use the casual side of these pants as much as possible since you won't have to walk around town with all that extra protection.
Comfort
Since these are a pair of casual riding pants, they use a button and a YKK zipper fly and come with standard belt loops. You get the usual pockets, so two on either side, an extra mobile phone pocket on the left pocket, and two back pockets.
Summary
The Klim Outrider pants are a great option for casual riders looking for something a bit heavier that they can still wear around town. Though they are on the simpler side from Klim, they still have a great set of features like their smart armor pockets that enhance their usefulness off the bike.
If you're curious to learn more about the Klim Outrider Pants, then don't forget to head to our YouTube channel where we have plenty more motorcycling gear reviews as well as our Klim Outrider Pants Video Review.