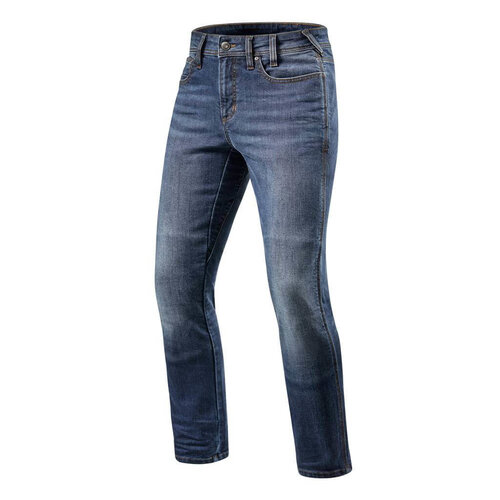 Revit Brentwood SF Jeans + Free Shipping!
The Revit Brentwood SF Jeans offer you the perfect jeans fit without compromising on any safety while out on the road. Being another product in Revit's long list of jeans styles from the Rev'It collection, you can be sure you're already getting plenty of style from these four-way stretch Cordura denim jeans.
These jeans also come in a wide range of waist sizes, which you can find in the list of available styles from the Rev'It collection. Though these jeans come at a recommended retail price of about 220 Euros, or about 245 US Dollars. So, these jeans will be in competition with the Alpinestars Copper Denim Jeans and the Alpinestars Victory Denim Jeans.
Material
These jeans are predominantly composed of Cordura denim, which will make these jeans much more abrasion resistant and tough than ordinary jeans. To keep them cool, and avoid creating any discomfort when riding, Revit have also included CoolMax throughout the jeans to keep you cool. For additional safety the Brentwood jeans also feature double layered PWR shield knit in the seat and knee of the pants.
Protection
For protection in case of an impact, the Brentwood jeans know how to stand their ground offering already installed CE level 1 knee protectors. The Brentwood jeans are prepared for SEESMART CE Level 1 hip protectors. Cordura also shows again how the case of extremely abrasion resistant material optimizes the balance between the comfort and protection.
Comfort
Though the Brentwood adds slim fit, thanks to the unique weave of the extremely stretchy pants. This is thanks to the four-way stretch Cordura. The interior liner is made of Cotton-twill, to make it comfortable and the zipper fly front closure has also been adjusted to prevent any painful pressure points.
Summary
The Revit Brentwood SF jeans offer a great deal to those looking to keep their slim fit jeans style from great ergonomics and comfort to a solid level of safety. They also come with all the great quality and comfort that we've come to expect from Revit.