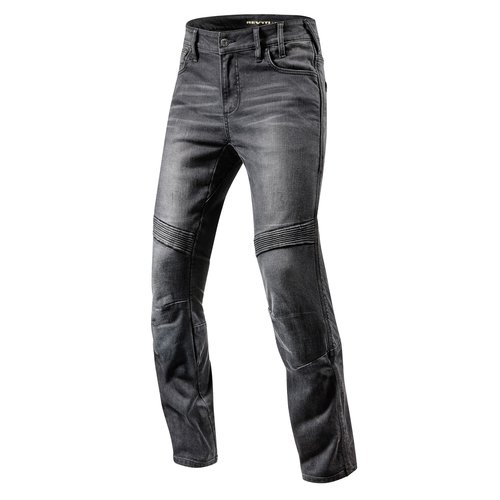 Revit Moto TF Jeans
Whether you're looking to ride your motorcycle or go touring with style, the Revit Moto TF jeans are the perfect piece of clothing to allow you to do it all with comfort and safety. To add to the Moto TF jeans, they're made with Cordura denim with triple needle stitching. This means that these will be a pair of highly abrasion resistant jeans (approaching the level of leather motorcycle pants) while still affording you all the latest fashion trends and style off the bike.
These jeans are offered in a variety of lengths and waist sizes and come at a recommended retail price of about 230 Euros, or about 250 US Dollars. This means that these pants' competitors are the Alpinestars Copper Denim Jeans and the Alpinestars Victory Denim Jeans.
Material
The outer shell of the Moto TF jeans is Cordura denim. This Cordura denim is held together by triple needle stitching to create an extremely strong outer shell. So, safety-wise the Moto TF jeans are both highly abrasion and tear resistant. These pants also include double layered PWR shield knit in the seat and knees of the pants.
Protection
For protection, these pants are bringing plenty, not only thanks to their outer shell and manufacturing techniques. The Revit MotoTF jeans come with CE Level 1 SEESMART knee protectors and even comes prepared with CE Level 1 hip protectors to keep them on spec with other jeans. For passive safety as well these jeans include 3M reflection at the ankle cuffs to improve your visibility.
Comfort
As all jeans should be, the Revit Moto TF jeans are comfortable, offering a full freedom of movement on the bike. With these jeans, the secret lies in strategically positioned stretch lips to allow for more give. These pants also come with the standard 5 pockets and, true to their TF name, have a regular fit in the thigh that grows narrower from the knee down.
Summary
In this case, Revit have brought a lot to these jeans, meaning cordura denim for the outer shell, improved comfort, and Revit's dedication to high quality. With the Moto TF Jeans, you can ride with both peace of mind and a great, stylish look.