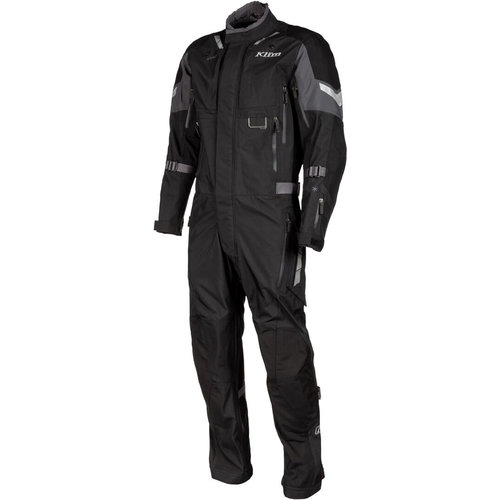 Klim Hardanger One-Piece Suit
The Klim Hardanger One Piece Suit has been designed to meet your needs, whether they are your daily rides to the office or an epic long-distance journey of the world. The Motorcycle Suit is built to offer everything in one piece of gear with a fully tested, abrasion resistant outer shell, a fully equipped integrated armor system, and numerous vents spaced around the suit.
Material
The Klim Hardanger Motorcycle Riding Suit is made of 3-Layer Gore-Tex Performance Shell technology for a high level of weatherproofing and abrasion resistance. However, for additional protection the suit includes 750D Cordura overlay on the knees, boot panels, shoulders, and elbows for better protection.
There is also substantial 3M Scotchlite reflective material spaced around the outside.
The suit if certified to CE Level A according to prEN 17092-4.
Safety
For protection, the fully armored Hardanger one piece riding suit includes D3O LP1 vented armor shoulder, elbow, hip, and knee pads. These pads have been certified to CE Level 1 in hot and cold conditions, and they are vented to provide a high level of airflow. Additionally, the suit comes with a CE Level 1 D3O Back pad with an adjustable pocket.
Comfort
The streamlined interior of the Hardanger has been simplified and does not include any liner to make it easier to put on over normal clothing. Nonetheless, for cool weather riding the suit features a waterproofed pass through port for heated clothing wires. For even better convenience, the suit has been designed to also integrate with the Klim Tek Pak.
For adjustments, there are quick adjust straps in the forearm, waist, and calf for a good level of adjustability
For ventilation, the suit includes 14 vents with 2 chest vents, 2 in the forearm, 2 in the tricep, 2 in the thighs, 2 in the bicep, 2 back exhausts, 2 thigh outlets, and there is a collar tab to pull the collar open.
For storage, the suit features 2 external chest pockets, 2 front thigh pockets, a 2-in-1 forearm pocket for various cards, and there are 2 hand pockets. The interior of the suit houses a hidden pocket behind the backpad and there is another interior chest pocket.
Summary
The Klim Hardanger One Piece Suit offers commuters and tourers alike an excellent high performance touring suit. Though waterproof, it has been designed with a high level of ventilation in mind from the use of numerous vents and vented protectors in the limbs.
If you'd like to learn more about the Klim Hardanger suit, then don't forget to head to our YouTube channel where we review the latest motorcycle gear.