Опубликовано
От Sebastian Sirotin
Опубликовано в AGV Helmets, AGV K 1, AGV K 6, AGV K1, AGV K6, AGV Motorcycle Helmets, AGV Pista GP R R, AGV Pista GP RR, AGV Pista GPRR, AGV Road Test, AGV Sport Modular, AGV Sportmodular, agv x 3000, AGV X3000, Road Tests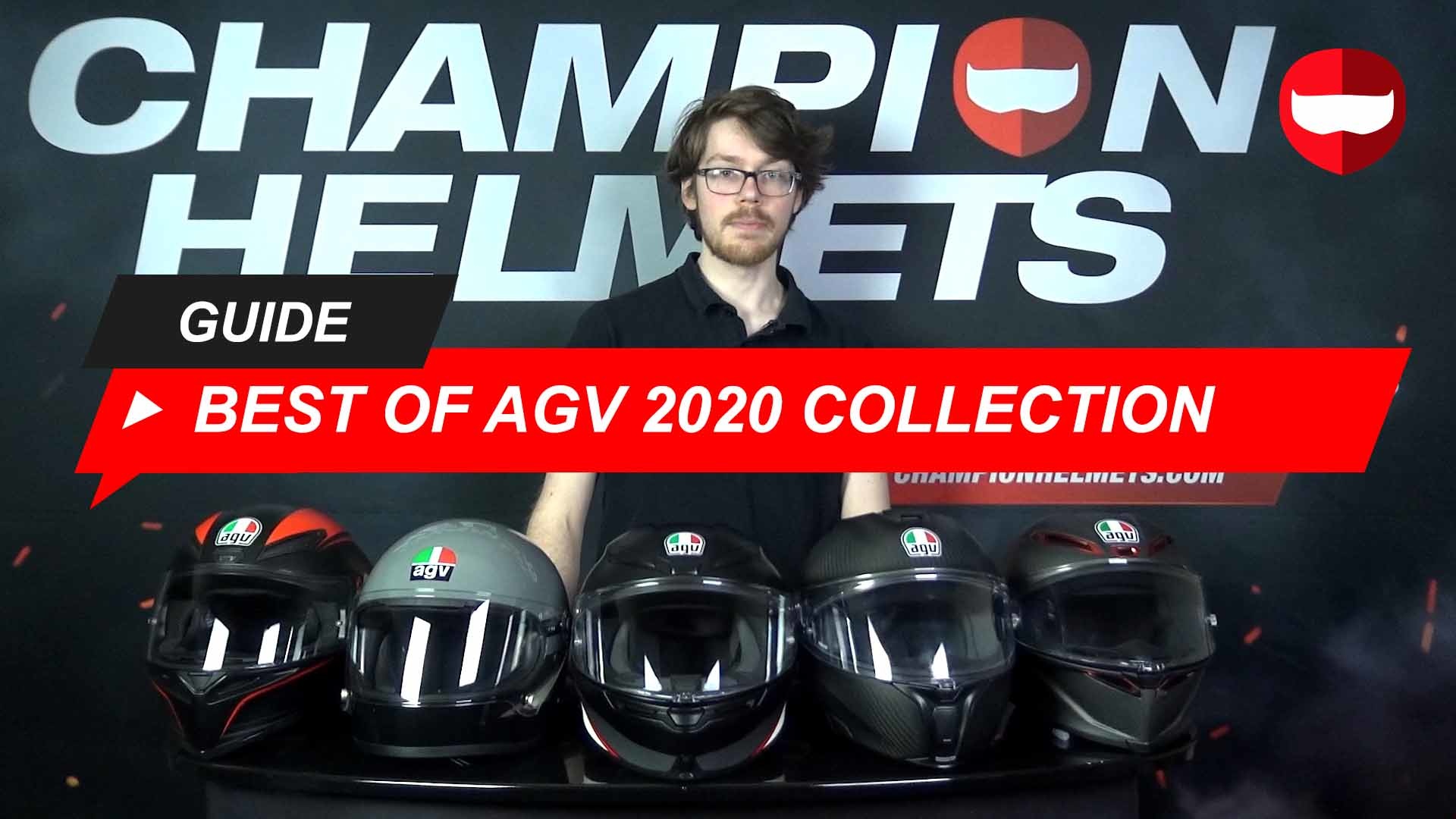 From the best racing helmet in the world to one of the most popular budget helmets available, AGV have an incredibly broad range. So, we've collected our top 5 helmets for this season and road tested them to give you an idea of AGV have on offer this year.
Best of AGV 2020 Collection
AGV have been one of the main helmet players from the start since it started out as a scooter saddle and helmet manufacturer in 1947. And for any of you wondering, AGV is actually an acronym for Amisano Gino Valenza, the founder's name and Valenza, the company's hometown. They built one of the first European full-face helmets and are well known for their effective advertising to become as well-known as they are today.
Though it always helps when you've covered the heads of world class racers like Giacomo Agostini, Barry Sheene, Valentino Rossi, and more.
So, for today we'll be going through the AGV K1, AGV X3000, AGV K6, AGV Sportmodular, and last but not least the AGV Pista GP RR.
Road Test Setup
If you're not familiar with our road test setup, this will give you a quick rundown. We conducted our tests at 130 km/h or 80 mph on long stretches of highway. We measured the helmet's internal temperature in degrees Celsius from a thermometer placed in the top of the helmet.
We found the helmet's noise level based on a thermometer near our rider's ear. And, lastly, we used a bike-mounted anemometer connected to a phone for the day's airspeed from an anemometer mounted on the bike.
AGV K1 Specs
First up, we've got the AGV K1 helmet, one of the most popular helmets currently available. The main reason is that you get the classic aggressive AGV look for about 180 Euros, or 195 USD. The helmet itself is made of high resistance thermoplastic and comes in 2 shell sizes, which is still a pretty good deal in this price category. Especially since it weighs about 1400 grams (3lbs 1oz), which is pretty good for a full-face thermoplastic helmet.
For ventilation, there are 5 vents in the front, 3 in the brow and two in the chin, and there are 2 exhausts under the rear spoiler to get rid of warm air. The visor is pinlock prepared, but you don't get the insert in the box, which is one of the places where AGV were able to cut down on the price. The liner is AGV's dry comfort liner, which is prepared for a comms system and will fit glasses.
AGV K1 Road Test
When we tested the AGV K 1, it was a rainy day and the day's airspeed was about 115-130 km/h. The exterior temperature was around 8 degrees Celsius (or 46 Fahrenheit) while the helmet was 2 degrees hotter at 10 degrees Celsius (or 50F). And the noise level in the helmet was 105 decibels. So overall, these are very good results considering the helmet's low price point.
In general, the K1 got a decent score, which is why it is on our list today. For material, the helmet earned only 2 stars since it's offered in only 2 shell sizes and is thermoplastic. For weight, the helmet earned 4 stars since it was at 1400 grams.
The visor earned 3 stars while for noise the K1 dropped to 2 stars. And it's the same picture with ventilation and comfort with 2 and 3 stars respectively. This brings the total to 3 stars at 11 Euros a star, which is one of the best results for budget friendliness and value for money.
AGV X3000 Features
Next up, we've got the AGV X3000. This is AGV's main retro helmet based off of the original design that was worn by the likes of Agostini. The fiberglass helmet, with a recommended retail price of about 380 Euros, or 410 USD, comes in 3 outer shell sizes.
For ventilation, there is only one stoppered vent in the non-pinlock prepared face shield. The liner of the X3000 is soft suede leather and it is removable and washable. The helmet also uses a double D-ring chin strap.
AGV X3000 Road Test
When we tested the helmet out it was a sunny day with the airspeed ranging from 105-115 km/h. The day's temperature reading was at 25 degrees Celsius, or 77F, and, thanks to the strong ventilation from the brow, it was the same inside the helmet as well. For noise, the X3000 was about average with 102 decibels in the helmet.
As far as ranking goes, the AGV helmet did very well considering it's meant to be retro. For material and weight, the AGV X 3000 earned 4 and 5 stars respectively thanks to it's strong and lightweight fiberglass construction. However, AGV did go a little too retro on the visor since it only earns 2 stars since it isn't coming with any pinlock features.
The helmet still made a comeback for ventilation and noise earning 4 and 3 stars respectively. Lastly, thanks to the great suede liner, the helmet earns 4 stars for comfort. This brings the AGV EX3000 to a total of 3.5 stars at 17 Euros per star; another strong result.
AGV K6 Specs
For the sport-touring category we now come to the AGV K6, a relatively new entry for this list. With a recommended retail price of about 460 Euros, or 500 USD, the K6 is an allrounder that's going to let you have it all. The helmet shell is composed of carbon aramid fiber and is even produced in 4 outer shell sizes for a better fit. It also weighs about 1330 grams (2lbs 14 oz) in a size M.
For ventilation, you have the usual 3 brow vents and a chin vent combined with an extractor in the rear. The visor of this helmet has a very wide field of view and it is pinlock anti-fog prepared with the insert in the box. The liner is moisture wicking, removable, washable, prepared for a comms system and eyeglasses, and it has emergency release cheek pads.
AGV K6 Road Test
When we tested the AGV K 6 out, the day's airspeed was around 115-120 km/h and it was sunny and warm. The exterior temperature during the test was around 22 degrees Celsius or 71F, while the helmet was 23 degrees Celsius, or 73F. So, all those vents did a good job of bringing the helmet to only a 1-degree difference to the outside. For noise, we measured about 101 decibels, which is also great for a full-face helmet.
Since the AGV K6 Helmet is made of lightweight and strong carbon aramid fiber, it earns 5 stars for both the material and weight categories, and the excellent visor earns it 4 stars. Unfortunately, the helmet did dip down to only 3 stars for ventilation and noise, but it did manage to come back a little bit by earning 3.5 stars for comfort.
Overall, this brings the AGV K6 to a total of 4 stars at 18 Euros/star, which is a strong result for a helmet that's meant to work on any bike.
AGV Sportmodular Specs
Next, up we have an interesting entry from AGV, the AGV Sportmodular, which is their first carbon fiber shell modular helmet. With the AGV Sport Modular, AGV are giving you as much luxury as possible with a full carbon fiber construction, 3 outer shell sizes, and a weight of 1300 grams.
The ventilation on this helmet includes a chin and a brow vent with the exhaust in the rear under the adjustable spoiler. The visor is pinlock prepared with the insert in the box and it has been designed to give an extra wide field of view. The liner is removable, washable, ready for a comms system, fits glasses, and is even reversible depending on the outside temperature.
AGV Sportmodular Road Test
When we tested the AGV Sportmodular Helmet, it was a beautiful day and the airspeed was about 125 km/h. During the test, the exterior temperature was about 31 degrees Celsius, or 87 F, while the helmet's interior was a much appreciated 30 degrees C, or 86 F. So, a difference of one-degree cooler. As far as noise goes, the Sportmodular also did surprisingly well with only 100 decibels in the helmet thanks to its aerodynamic shape.
Dur to its solid performance, the Sportmodular also ranks very well. For material and weight, the Sportmodular earns 5 stars for each. For the visor, ventilation, and noise isolation, the Sportmodular also solidly earns 4 stars. Lastly, for comfort, the Sportmodular earns 3.5 stars.
So, overall, the Sportmodular earns 4 stars with each star costing 29 Euros.
AGV Pista GP RR Specs
Last but not least, we have the MotoGP developed AGV Pista GP RR, one of the best motorcycle helmets currently available. It's fully made of carbon fiber, comes in 4 shell sizes, and only weighs around 1450 grams, or 3lbs 3oz. However, the best helmet does come a price, since it with a recommended retail price of about 1250 Euros, or 1340 USD.
There are 3 stoppered vents in the brow as well as inlets in the chin with two air outlets out the back above the spoiler. The visor is pinlock prepared with the insert lens in the box, as well as an additional tear off kit. The liner is adjustable, removable, washable, has a hydration system, and moisture wicking. The helmet also comes with the new FIM homologation.
AGV Pista GP RR Road Test
When we tested out the AGV Pista GPRR, it was another sunny day with the average airspeed at about 115-120 km/h. The outside temperature for the day was about 20 degrees C, or 68F, while the helmet's interior was 21 C (69 F). Though you can expect this result to be better on the track and in a tucked position.
For noise, the AGV Pista GP R R measured about 107 decibels, though this is common with race helmets since they're designed with the assumption that you'll be wearing earplugs. Which, as a side note, also comes in the box with the helmet.
Unsurprisingly, the AGV PistaGPRR is one of the best ranking helmets out there. For material, the Pista earns 5 stars while for weight it earns another 4.5. The visor and aerodynamics of the helmet are top notch, earning it another 5 stars.
Though it does dip to 4 stars for ventilation, you can still expect it to be even better. Finally, for comfort the Pista earned 4.5 stars.
This brings the helmet's overall score to 5 stars at 45 Euros per star.
So, there are some trends that AGV do tend to follow. A lot of their designs actually are based on the Pista GP RR, which makes sense since it's their absolute best helmet, and that's where you get the sporty design from. Another nice thing is that AGV have been able to cater to a variety of markets at different prices to make that AGV accessible to many.
If you'd like to purchase any of these AGV helmets, then don't forget to head to ChampionHelmets.com where we have a lowest price guarantee and plenty of bundle deals including free visors or discounted comms. systems.
Conclusion
Though there are still more AGV helmets available in their 2020 lineup, these helmets are bringing a mix of the best performance for the best value for money.
But if you'd still like to know more, then make sure to check out our YouTube channel with our Best of AGV 2020 Collection Video Guide and our individual helmet review and road tests.